Through our Hong Kong affiliate, we were able to showcase our products at the Hong Kong Food Expo 2008.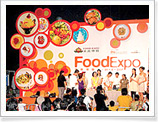 Date of Event : 14th - 18th August 2008
Venue : Hong Kong Convention and Exhibition Centre

Hong Kong Food Expo, the principal part of the food technology show, takes place at the Hong Kong Convention and Exhibition Centre. The Food Expo Hongkong has consolidated its reputation as the Culinary Capital of Asia. Various kinds of food processing and packaging machines, materials, systems and products are on display in one place, Food Expo HK caters an opportunity for manufacturers and traders from all over the globe to promote their latest food products to both international and local markets in this annual food event. HK food expo is successful and has achieved much international success as Hong Kong Food Expo 2008 will be organized for the nineteenth time. During this International Food Expo, guests can enjoy food demonstrations and sampling, entertainment and handy kitchen tips. (Info-Link)
Since 2010 our company have been sending representatives, every two years, to the Hong Kong Food Expo, Modernization of Chinese Medicine Expo, and The Hong Kong Tea Expo. Our team continues to seek out new buyers and new distributors within the Hong Kong and south east Asia region.